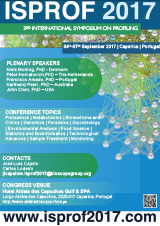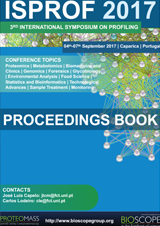 Dear Colleagues and friends,
We are delighted to announce that the 3rd International Symposium on Profiling will be held in Costa de Caparica, Portugal from 4th to 7th, September 2017.
Every two years we gather to discuss about the most recent advances in profiling technology and its present and future applications. On the occasion of the Caparica Congress, we speek to further promote the development of Profiling in the field of life sciences, environmental sciences and food science as well as in statistics and bioinformatics for profiling.
We cordially encourage you to attend and contribute to one of the major events of 2017 on the field of profiling. We are confident that you will appreciate the city of Caparica.
And last, but not least, we have some of the best in the arena:
Plenary Speakers
Niels Morling, PhD

Faculty of Health and Medical Sciences, University of Copenhagen, Copenhagen (Denmark)

Péter Horvatovich, PhD

Department of Pharmacy, University of Groningen, Groningen (The Netherlands)

Francisco Amado, PhD

School of Health Sciences, University of Aveiro (Portugal)

Karlheinz Peter, PhD

Monash University and Royal Melbourne Institute of Technology (RMIT) (Australia)

John Chan, PhD

Department of Pathology, City of Hope Medical Center (USA)
Keynote Speakers
Nathan A. Yates, PhD

Department of Cell Biology, University of Pittsburgh, Pittsburgh (USA)

Bernd Schneider, PhD

Research Group Biosynthesis/NMR Max Planck Institute for Chemical Ecology (Germany)

Charles Schwartz, PhD

Greenwood Genetic Center (USA)

Jean-Luc Wolfender, PhD

School of Phamaceutical Sciences Bioactive Natural Products Unit, University of Geneva (Switzerland)

John Kozarich, PhD

ActivX Biosciences, Inc. (USA)

Fernanda Laezza, M.D, PhD

Department of Pharmacology & Toxicology, University of Texas Medical Branch, Texas (USA)

Georg J. Arnold, PhD

Ludwig- Maxmilians Universitat Munchen, Munchen (Germany)
The Oral Contributions can be viewed here
Yours truly
J. L. Capelo
C. Lodeiro
Conference chairs
On behalf of the organizing and scientific committee
---
What is Profiling?
Profiling is defined as the art of collecting information about something, and using that information in order to give a description of it.
The information can be collected by different means, such as chemical analysis, physical analysis, biological analysis, environmental analysis, genetical analysis,  mathematical analysis, etc.
---
Conference Subjects:
Profiling in Proteomics, Metabolomics, Biomedicine and Clinics
Profiling in Genomics
Profiling in Forensics
Profiling in Glycobiology
Profiling in Environmental Analysis
Profiling in Food Science
Statistics and Informatics for Profiling
Technological Advances in Profiling
Sample treatment for Profiling
Monitoring
---
Warning for participants
Please note that Exhibition Housing Services, Exhibition Housing Management and Trade Show Housing do not represent the PROTEOMASS Scientific Society nor BIOSCOPE group, nor have PROTEOMASS Scientific Society or BIOSCOPE Group authorized them to use their names or trademarks on information they send out to participants.
MIND!!: Booking must be done directly with the HOTEL. Internet or travel agency bookings do not included meals and social events. See the Venue Registration section for more information.
Booking through the Internet and/or travelling agencies will imply additional cost for meals:
        • 15€/lunch/person/day
        • 22,50€/dinner/person/day
           no social events